Don't wait for progress. Make it.
Autodesk Executive Briefings are an exclusive opportunity to discuss your business challenges with Autodesk executives and industry experts, and develop a vision for your future, together.
What is an Autodesk Executive Briefing?
We'd like to invite you to book an Autodesk Executive Briefing. This is a unique opportunity to engage with Autodesk Executives and Subject Matter Experts, to share information about the future of work and discuss ways to shape strategies that will help your business thrive.
The benefits for your business.
Share your vision, learn about ours
Discuss your business challenges, and transform your relationship from vendor to partner. Get exclusive access to our future plans, and learn how they could positively impact your strategic development.
Get a competitive edge
Develop a vision for your future together, that takes advantage of everything current and future Autodesk solutions have to offer, and let us help you gain a competitive advantage.
Benefit from R & D
Autodesk invests in a huge amount and variety of R & D. Discover more about our commitment to innovation and let's talk about joint R & D opportunities that will help your business flourish.
You'll be in good company.
Partnering with Autodesk can make a big difference to your business. But you don't need to take our word for it – here's what a couple of customers have to say about getting involved with our Technology Centers to use cutting-edge technology.
LuxMea
Based out of the Autodesk Technology Center in Toronto, LuxMea is using their residency to explore industrialized construction through digital fabrication, with a focus on researching generative design for large and complex structural systems.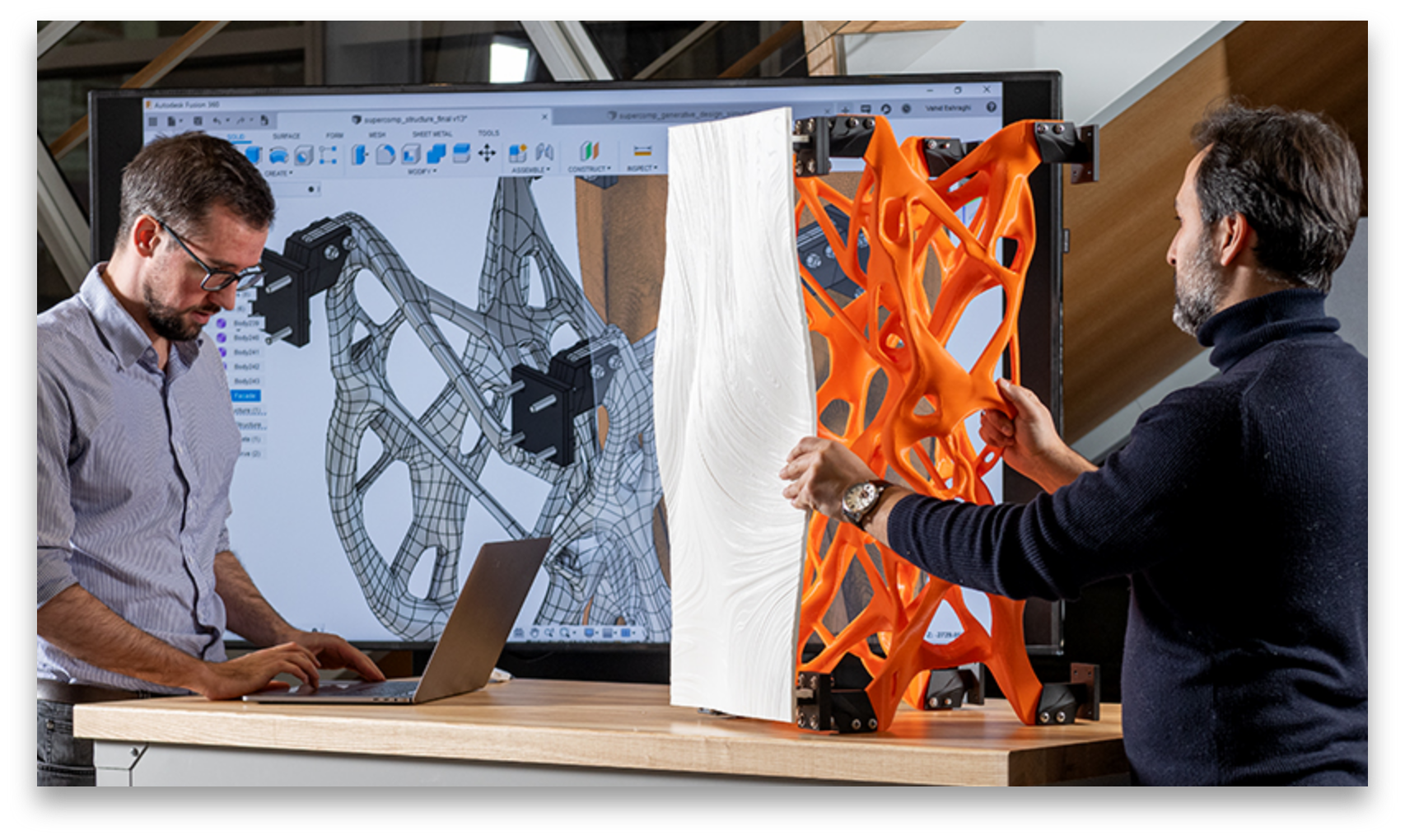 ZEITDice
Autodesk Technology Center resident, Michael Schwanzer, of ZEITDice, is designing cameras that enable machines to see and understand our world in order to provide humans with new and valuable insights - including improving productivity of greenhouses.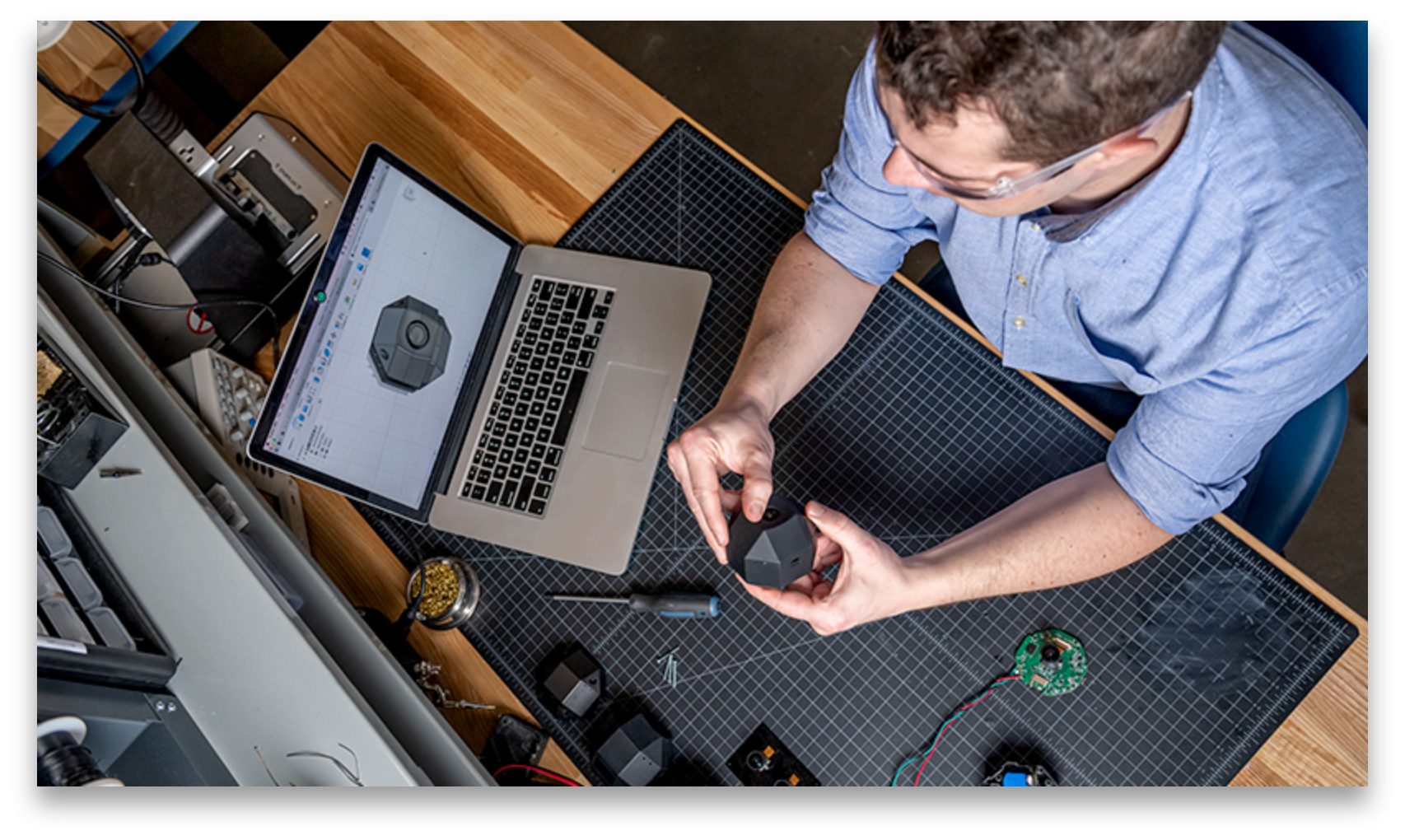 Forcen
Residents from Forcen are exploring ways to provide a digital sense of touch for high reliability robotics in surgery, manufacturing, aerospace, and defense. This digital sense of touch provides immediate use in human teleoperation and simple automation.
What you can expect.
Your Executive Briefing session will be tailored to your specific needs and goals. However, here is an example agenda to give you an idea of the topics covered.
Morning
Executive Welcome & introductions
Session 1
Overview of your Company's Challenges and Priorities
Presentation by your team to help us understand your goals and vision.
Session 2
The Future of Making and Innovation Discussion
An Autodesk executive will lead an interactive discussion around our view of the industry.
Session 3
Disruptive Technology Trends
Topics may include generative design, factory of the future, or additive manufacturing.
Session 4
Product or Technology Roadmap
Dig deeper into the products or technologies that are most important to you.
Session 5
Action Plan
Interactive conversation around opportunities and next steps.
See what our technology centers are creating.
San Francisco boasts a wide range of advanced manufacturing equipment, robotics, and workspaces to explore new ideas around traditional manufacturing.
Boston provides access to large-format fabrication equipment, a wide range of robotics, ample project space in a heavy-duty army warehouse, and training and expertise from Autodesk personnel.
Toronto offers access to advance prototyping and validation tools, where industry experts can come together to reimagine how we design the world around us.
The Autodesk Technology Centre in Birmingham, UK, works with customers across industries to help them develop new manufacturing and fabrication techniques.
Arrange your Executive Briefing.
Get in touch with your Autodesk Account Manager to book your briefing and we'll take it from there.